Overview
TrainForTrade blended learning strategy to boost the digital economy in Small Island Developing States of Africa, the Caribbean and Asia and the Pacific
This project is financed by United Nations Development Account Tranche 14. Code: 2225F
It will be implemented in collaboration with The Economic and Social Commission for Asia and the Pacific (ESCAP), the Economic Commission for Latin America and the Caribbean (ECLAC), the United Nations Economic Commission for Africa (ECA), the United Nations Department of Economic and Social Affairs (DESA)/ the United Nations Statistics Division (UNSD) , the United Nations Commission on International Trade Law (UNCITRAL), the United Nations Resident Coordinator System, and the World Trade Organization (WTO). Courses of this project are delivered in collaboration with the Pacific Digital Economy Programme, a joint initiative of UNCDF, UNDP and UNCTAD, with financial support from the Government of Australia.
Objectives
This project will strengthen the capacities of Small Island Developing States (SIDS) in Africa, the Caribbean and Asia and the Pacific to adopt trade policies that foster digital economy development and enhance crisis responsiveness. It will develop the skills and knowledge with innovative approaches based on a recognized blended learning method and state-of-the-art technological solutions.
The project is structured in three different components:
Legal aspects of e-commerce
Digital economy statistics
Digital identity for trade and development
Target countries and partners
The project covers 38 Small Island Development States.
Pacific
Federated States of Micronesia
Fiji
Kiribati
Marshall Islands
Nauru
Palau
Papua New Guinea
Samoa
Solomon Islands
Timor-Leste
Tonga
Tuvalu
Vanuatu
Caribbean
Antigua and Barbuda
Bahamas
Barbados
Belize
Cuba
Dominica
Dominican Republic
Grenada
Guyana
Haiti
Jamaica
Saint Kitts and Nevis
Saint Lucia
Saint Vincent and the Grenadines
Suriname
Trinidad and Tobago
Atlantic, Indian Ocean and South China Sea (AIS)
Bahrain
Cabo Verde
Comoros
Guinea-Bissau
Maldives
Mauritius
São Tomé and Príncipe
Seychelles
Singapore
Legal aspects of e-commerce
Delivery
The course is under development and should be delivered for SIDS in September/October 2023.
Objective
Enhance the capacities of lawmakers, government officials and other stakeholders in all aspects to be considered for the drafting of electronic commerce laws.
Specific objectives:
After the course participants will be able:
To explain a wide range of regulatory issues that concern e-commerce;
To describe the new developments and scope of e-commerce issues;
To exchange experiences and knowledge on harmonization aspects of e-commerce.
TARGET POPULATION
Policy and law makers, regulators (enforcement agencies) in charge of defining general policy guidelines and elaborating national legal frameworks for e-commerce
Judiciary (lawyers, judges, police) involved in electronic commerce issues
Service providers, businesses offering on-line products and services
Each course module includes interactive assessments and links to communication tools for online interaction. Every module consists of video presentations, a participant manual, a forum, tests and case studies. Participants should spend between 4 to 5 hours per week to study the material and participate in the forums.
· Module 1. Regulating e-Commerce
· Module 2. Trade and e-commerce
· Module 3. e-Transaction
· Module 4. Consumer protection
· Module 5. Payments and taxing e-commerce
· Module 6. Protecting personal information
· Module 7. Securing e-commerce
· Module 8. Cybercrime
· Module 9. Content regulation
The course will be conducted in TRAINFORTRADE's distance learning platform. In the platform, participants will have access to manuals, multimedia presentations, module exams, opinion surveys and forums created for each module for discussions with the instructor and other participants.
A 90-minute follow-up webinar will be organised at the end of the course. The topic will be defined during the assessment of the online sessions.
Digital Identity for Trade and Development
This component of the project will increase knowledge on solutions to common challenges implementing e-commerce at policy level and for small to medium sized enterprises. Awareness of the risks and challenges with digital authentication in the next frontier with e-commerce and security.
Modules:
Fundamental Concepts of Digital Identity
Data Protection
ID Usage
Governance
ID Technology Solutions & Risks
Digital Trade Agreements
Target population
Ministry in charge of e-commerce
Telecommunication/ICT
Trade
Revenue/Tax/Finance authorities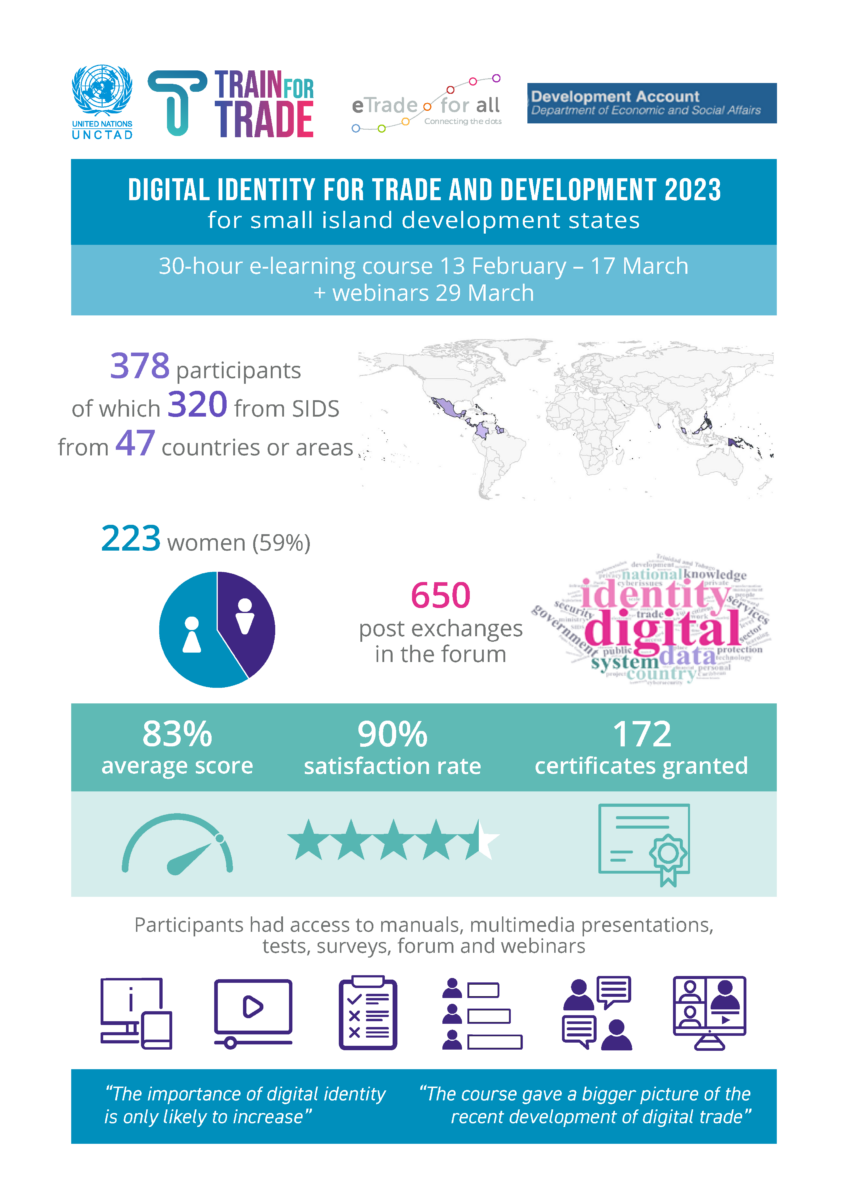 Digital Trade Statistics
This sect

The TrainForTrade/UNCTAD, in collaboration with UNCTAD/ECDE Branch and UNCTAD/Stats, WTO and other organisations, will develop a new course on Digital Trade Statistics. It should be based on the Handbook on measuring digital trade and e-commerce .

To online "brainstorming sessions" will be organised on 30 May and 1st June from 14:00 to 16:00 (GMT +2) with experts from those organisations.
Blended learning approach
TrainForTrade has a long-standing experience in blended learning, combining Asynchronous Instructor-Led Online Learning activities and face-to-face workshops following the TrainForTrade methodology.
Blended learning gives trainees as well as trainers more flexibility in the training process. Access to knowledge and information can take place across time and distance using technologies.
This project entails online "Design a Curriculum" sessions, interactive online courses, interactive online workshops, webinars as well as a high-level hybrid conference.
Outputs
The project will fulfil its objective with two expected outcomes:
Enhanced understanding by key actors from beneficiary countries on legal and practical aspects of digital economy
Strengthened capacities of policymakers of beneficiary countries in designing digital economy policies to promote new digital services and develop digital authentication methods
Related links and documents
Dec Acc 14 TFT SIDS presentation 15 July 2022
Dec Acc 14 TFT Digital Identity for Trade and Development – Course report 8 May 2023