The Section focuses on developing skills, knowledge and capacities through innovative development approaches based on a recognized pedagogical method and state-of-the-art technological solutions.
Mission
Strengthening knowledge and skills through innovative approaches for inclusive sustainable economic development
Mandates
The HRDS-TRAINFORTRADE Section aims at achieving the objectives at the core of the Bridgetown Covenant and Sustainable Development Goals (SDGs). To address these targets, the section focuses on developing skills, knowledge, and capacities through innovative development approaches for inclusive sustainable economic development.

Approach
Promoting beneficiary involvement to ensure sustainability and ownership
Beneficiaries
Typical participants in TRAINFORTRADE's projects include:
Government officials and trade specialists responsible for designing and implementing trade and development policies;
Private sector, professional associations, local port authorities, regional organisations, civil society, NGOs and decentralized cooperation associations;
Local communities in charge of implementing projects in the field;
National institutions for training and capacity building.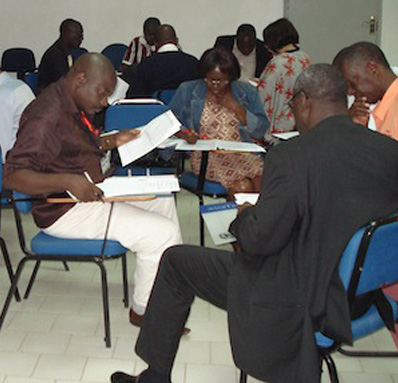 Learning methods
TRAINFORTRADE's learning approach combines e-learning with face-to-face training. This approach allows for a flexible and participatory training process:
Distance learning: an approved TRAINFORTRADE technical tutor conducts the seminar using information and communication technologies. A face-to-face wrap-up session brings the distance learning session to a close and validates it;
Face-to-face training: a TRAINFORTRADE approved trainer leads the seminar and exercises in an appropriate learning environment.
Three types of trainings are offered:
Seminars aimed at the trade operators and other relevant stakeholders;
Training of trainers (who will teach the courses within their institutions);
Training of coaching (who will manage training activities online).
The TFT Project Cycle
The TFT Project Cycle includes 4 phases:
1. Identifying and assessing needs:
The beneficiary country makes an official request.
In close cooperation with the relevant actors, the needs for capacity development in international trade are analyzed, an inventory of ongoing initiatives is drawn up, a plan of action is prepared and funds are sought in parallel.
2. Developing the project:
A national or regional steering committee is set up comprising various players in trade-related capacity development. The committee guides the project, coordinates the activities and defines the annual priorities.
The course material is developed, in cooperation with UNCTAD experts, on topics of priority for the beneficiary country.
The material is adapted to the local needs identified and translated into local languages, if necessary.
During the seminars, potential trainers (who conduct the face-to-face workshops) and potential technical tutors (who manage the distance courses) are identified.
Participants' evaluation contributes towards making adjustments to the course material and provides food for thought for the beneficiary institutions.
3. Spreading the knowledge:
Knowledge dissemination and sharing take place through the seminars given by local trainers and through formal and informal networking among participants and institutions.
The steering committee meets regularly, thus promoting mechanisms for long-term dialogue.
4. Accompanying the change:
Advisory and support services are provided by UNCTAD experts for policy-making, in line with national and regional requests.
Documents