Ireland and Northern Ireland renew support for the Port Management Programme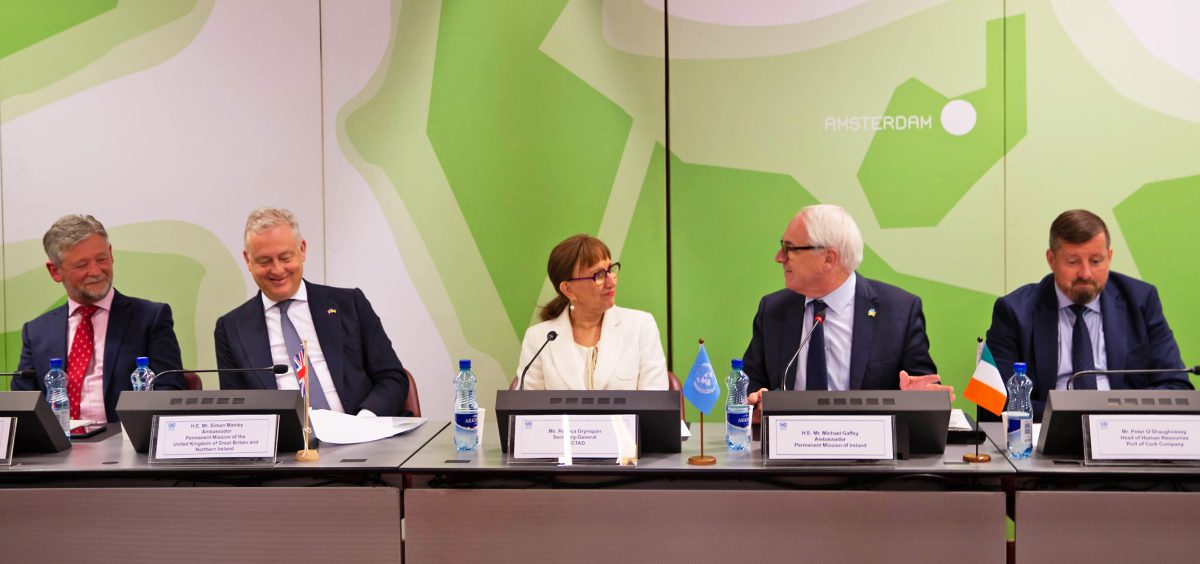 Ports from Ireland and the United Kingdom of Great Britain and Northern Ireland recommitted on 7 April their support to UNCTAD's programme helping ports in developing countries boost productivity and efficiency.
The Dublin Port Company, the Port of Cork Company and Belfast Harbour signed a new 4-year agreement with the UN body, renewing their partnership with its TrainForTrade Port Management Programme.
With ships carrying over 80% of the goods people buy, from food to medicine to electronics, ports play a crucial role in trade and socioeconomic development – a fact highlighted by COVID-19.
Restrictions put in place to stop the spread of the virus led to delays in ports that put a strain on global supply chains and contributed to higher prices for consumers.
"COVID-19 reminded the world that when ports slow down, everyone suffers," UNCTAD Secretary-General Rebeca Grynspan said.
In the photo from left: Captain Kevin Allen, Harbour Master of Belfast Harbour; Simon Manley, Ambassador of the Permanent Mission of the United Kingdom of Great Britain and Northern Ireland; Rebeca Grynspan, Secretary General, UNCTAD; Michael Gaffey, Ambassador of the Permanent Mission of Ireland; Peter O'Shaughnessy, Head of Human Resources of the Port of Cork Company