Collegial network supports port communities in west Africa
UNCTAD's TrainForTrade port management programme has created a network to help port communities reboot their economies from the COVID-19 crisis.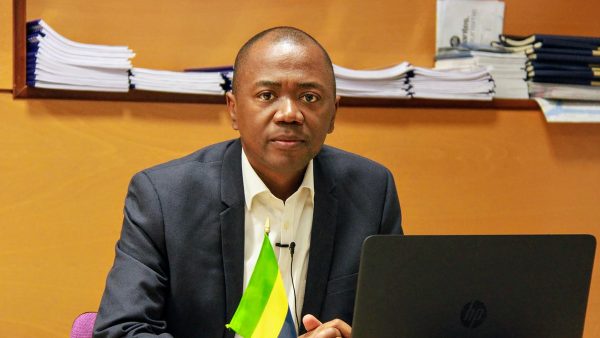 Godwin Alini has had an impressive career in port management. Starting as an intern in 1999, more than 20 years ago, he's now the CEO of the Office of Ports and Harbours of Gabon (OPRAG).
He owes part of his career growth over the last two decades to his participation in various courses conducted by the UNCTAD TrainForTrade port management programme.
But he didn't originally set out to work in port management. He first studied agricultural economics, then pursued a master's degree in business management. He also has a degree in transportation and logistics.
Mr. Alini joined the human resources department at OPRAG in 2000 and has since been part of many TrainForTrade training courses, first as a participant and later as one of the trainers.
The training workshops' topics related to human resources have been particularly useful in Mr. Alini's day-to-day work. "The courses have helped me better understand and engage people in reforming our port," he says.
He's conducted training workshops in TrainForTrade's French-speaking network in Cameroon, Côte d'Ivoire, Haiti, Guinea and Senegal. "It's been a pleasure to train participants on topics covering administrative, legal, technical and human resources issues," he says.
Essential network
Mr. Alini, the focal point of the TrainForTrade port management programme in Gabon, says being part of the network is essential to his professional life.
"Networking with other port managers gives me a good overview of current problems in port communities. These experts are always available to answer any questions I may have," he says.
Promoting regional knowledge and South–South cooperation is an integral part of the programme. Ports in the French-speaking network may be competitors, but since they have a lot in common, they always support each other by exchanging experiences and skills.
"One example was when I wanted to reshape OPRAG by implementing a new port community system. I just made one phone call to the Abidjan port in Côte d'Ivoire and we organized a field trip there to study their experiences, which guided our reforms," Mr. Alini said.
He says it's also more affordable to seek advice from colleagues than from consultants.
"With the network I don't have to pay a consultant to get the necessary information. Even when we need to hire external experts from time to time, it's good to first consult colleagues, who may guide us to the right direction," he said.
Mr. Alini emphasizes the immense value of the lessons he's learned from his numerous visits to other ports and meetings with colleagues from other countries.
"I started building my professional network from the time I participated in the first training-of-trainers session. It's helped fast-track my career success," he says.
Beneficiary and partner
OPRAG has been a beneficiary and partner since the inception of the TrainForTrade port management programme.
"The port sector is at the heart of Gabon's economy. It's important to maintain a strong commitment towards building the capacity of port managers in meeting and surpassing the highest standards and quality in the industry," Mr. Alini said.
He sees the programme as a perfect tool to achieve this goal. "We look forward to continuing the cooperation in the network with UNCTAD and other port communities to reboot our economies from the COVID-19 crisis in a sustainable and inclusive manner," Mr. Alini added.
The programme launched in 1989 disseminates international trade-related knowledge and develops skills and capacities in developing countries and those with economies in transition.
Over the years, it has received funding from Belgium, France, Greece, Ireland, Portugal, Spain, the beneficiary countries and partner ports.
More on the project: Port Management