Evaluation is a very important element of the TrainForTrade methodology. Evaluation activities are carried out before, during and after training and capacity building activities in order to verify the level of implementation of the skills and knowledge acquired.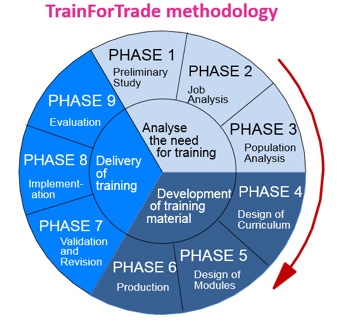 An evaluation is also carried out at the end of each technical assistance project. An UNCTAD or external team assesses the efficacy, efficiency, relevance, impact and sustainability of activities carried out over the project cycle.
Moreover, in-line with Results-Based Management (RBM) methodology, TrainForTrade collects indicators of success and satisfaction for all its activities based on performance (tests) and evaluations (assessments) allowing for benchmarking over time and regions/activities.
"The evaluation team found good examples of incorporating institutional sustainability considerations into technical cooperation, including the alumni networks under Train for Trade and the focus on organizational strengthening of national trade facilitation committees. Strong national ownership, evidenced by high counterpart contributions, increases the likelihood of sustainability."
Source:
TD/B/WP/287 – External evaluation of UNCTAD subprogramme 4: Technology and logistics
TD/B/WP(75)/CRP.2 – Supporting materials
TD/B/WP(75)/CRP.1 – Management response to the external evaluation of UNCTAD subprogramme 4: Technology and logistics
"TrainForTrade Port Management Programme
This component of TrainForTrade aims to improve the efficiency and competitiveness of port management services, as well as enhance strategic decision-making and the application of modern techniques of port management. Feedback from beneficiaries, partner ports and the donor State co-funding the English language network (Ireland) was overwhelmingly positive with respect to the Programme. Examples of positive results include the following: training delivered through a combination of different advanced pedagogical tools is considered useful and practical; the concept of delivering training through mobilizing the resources of three European partner ports may serve as a model for delivering similar technical capacity-building assistance elsewhere in the United Nations system; the high level of usefulness for participating ports and their ownership is evidenced by their willingness to significantly contribute to the costs of training; and regional courses provide significant advantages with regard to travel costs for participants and are tailored to specific requests. The representatives of ports interviewed confirmed that the capacities of their staff to fulfil their functions had significantly strengthened. Beyondthe formal training sessions, ports considered the opportunity of sharing experiences within and between different networks as an important benefit, and alumni networks were a key value added, with the potential for further leveraging for better visibility and ownership. "
Source:
TD/B/WP/287 – External evaluation of UNCTAD subprogramme 4: Technology and logistics
TD/B/WP(75)/CRP.2 – Supporting materials
TD/B/WP(75)/CRP.1 – Management response to the external evaluation of UNCTAD subprogramme 4: Technology and logistics