Towards e-commerce legal harmonization in the Caribbean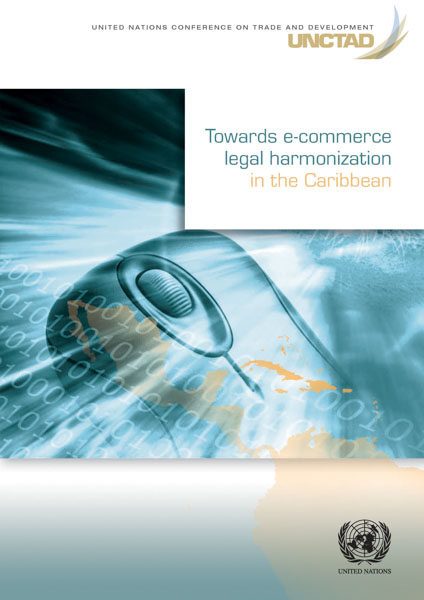 The establishment of adequate legal frameworks can facilitate the transition to a digital economy and the take-up of e-commerce in-country but also regionally and internationally by reducing uncertainties, enhancing trust and addressing potential harms.
With rising use of e-commerce and current developments in cloud computing, the Internet of Things ('IoT') and big data, the need for such frameworks has become urgent.
According to the UNCTAD Global Cyberlaw Tracker, 77 per cent of countries have adopted a law on electronic transaction, 72 per cent on cybercrime, 52 per cent on privacy and data protection and 50 per cent on the protection of consumers online.
Across the Caribbean region, there have been a number of initiatives aiming at fostering the use of information and communications technologies (ICTs).
This publication provides up-to-date information on the legal framework of Caribbean countries following the Regional Workshop on E-Commerce Legislation Harmonization in the Caribbean held from 29 September to 2 October 2015.
The report examines the legal and regulatory framework for e-commerce in 10 countries: Antigua and Barbuda, Bahamas, Barbados, Costa Rica, Cuba, El Salvador, Jamaica, Santa Lucia, Suriname and Trinidad and Tobago.
It examines progress made by the countries in regard to electronic transactions/electronic signatures, online protection of consumers, protection of personal data, industrial and intellectual property, domain names, cybercrime, security of information and pending legislation and challenges.