Report on the TRAINFORTRADE special course Building Port Resilience Against Pandemics (BPR)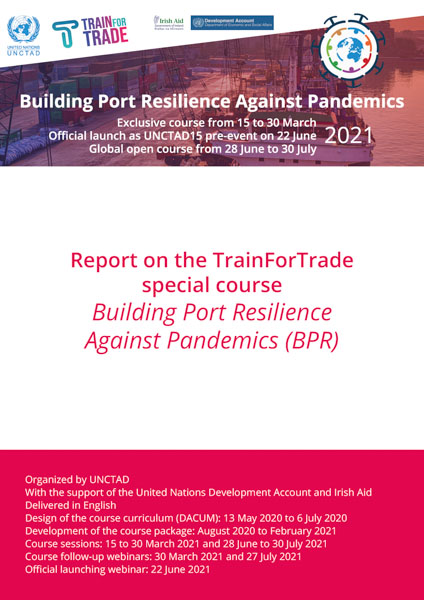 The special course Building Port Resilience Against Pandemics has been a success
TRAINFORTRADE's e-learning course Building Port Resilience Against Pandemics (BPR) builds essential skills for port community managers to help protect people and secure vital trade in ports in a pandemic situation.
The first two delivered in English had a very good reception with an extremely high satisfaction rate of 94 percent. Participants from diverse professional roles found the course very useful and relevant to their work.
The BPR course gives a precise view of the different aspects to be taken into account in a pandemic situation. It considers both a general vision and specific actions, the psychological and emotional part related to workers, the technological tools, and actions related to ensuring the main activity of a port in the management of the flow of goods.
Based originally on several requests from members of its Port Management Programme, TRAINFORTRADE started to develop the BPR course during the first months of the COVID-19 pandemic.
The first course session was targeted to member ports of the TRAINFORTRADE Port Management Programme and it was delivered in March 2021. The second course session was opened to worldwide participation and delivered in June–July 2021. The e-learning course sessions were followed up by webinars. An official course launching webinar was organized on June 2021 as part of the series of pre-events leading to the UNCTAD15 quadrennial conference.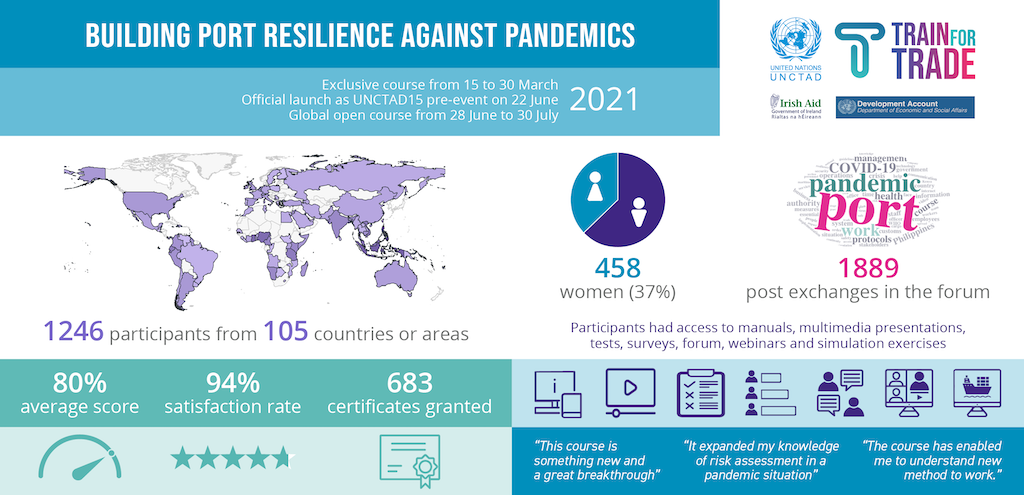 A total of 1246 participants from 105 countries registered to the course and launching webinar. For the two course sessions only, 985 participants were registered. Among these, 683 successfully completed it and received a certificate of completion.
The course sessions and the launching webinar contributed to the empowerment of women through information and communications technology. 37 percent of the participants were women.
During the e-learning course participants engaged in lively discussions and exchanges with experts. Almost 1900 posts were exchanged in the discussion forums focusing on topics covered by the course.
Course participants were invited to suggest recommendations to help draft policy advice related to the pandemic response in port communities and later to vote on the proposals suggested by others. The number of shared proposals exceeded 240 entries. The policy recommendations will be published shortly as UNCTAD's Policy Brief publication.
TrainForTrade has examined and implemented new gamification methods to develop and renew participants' e-learning experience. As part of the Building Port Resilience Against Pandemics course participants completed two innovative online simulation exercises to consolidate the knowledge they acquired during the course. These exercises were especially appreciated by the participants.
To respond to more demands, the BPR course is currently being developed in French and in Spanish. A new delivery of the course in English is planned for 2022.