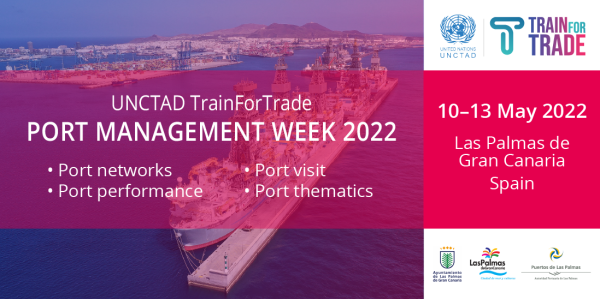 TRAINFORTRADE's Port Management Week between 10–13 May 2022 in Las Palmas de Gran Canaria, Spain, gathered 93 port professionals to discuss and share knowledge. The participants represented 41 institutions from 23 countries of the TRAINFORTRADE Port Management Programme.
The objectives of the Port Management Week were to build back better by:
Engaging in high-level discussions on key thematics linked to the UN Sustainable Development
Goals (SDGs) and port management (climate change, environment, digitalisation and
cybersecurity);
Participating in the global coordination meeting of the three TRAINFORTRADE language-based
networks (exchange of information, best practices and recommendations);
Assessing the latest trends of the Port Performance Scorecard and statistics of the networks.
The Port Management Week 2022 was hosted by the Port Authority of Las Palmas and the City of Las Palmas.
Read more about the event:
Final report of the Port management Week 2022
Industry leaders highlight urgent needs to build port resilience"
Port Management Week started with discussions on KPIs and Port Performance
Six recognized case studies presented in the Port Management Week"