Successful course on producing statistics on the digital economy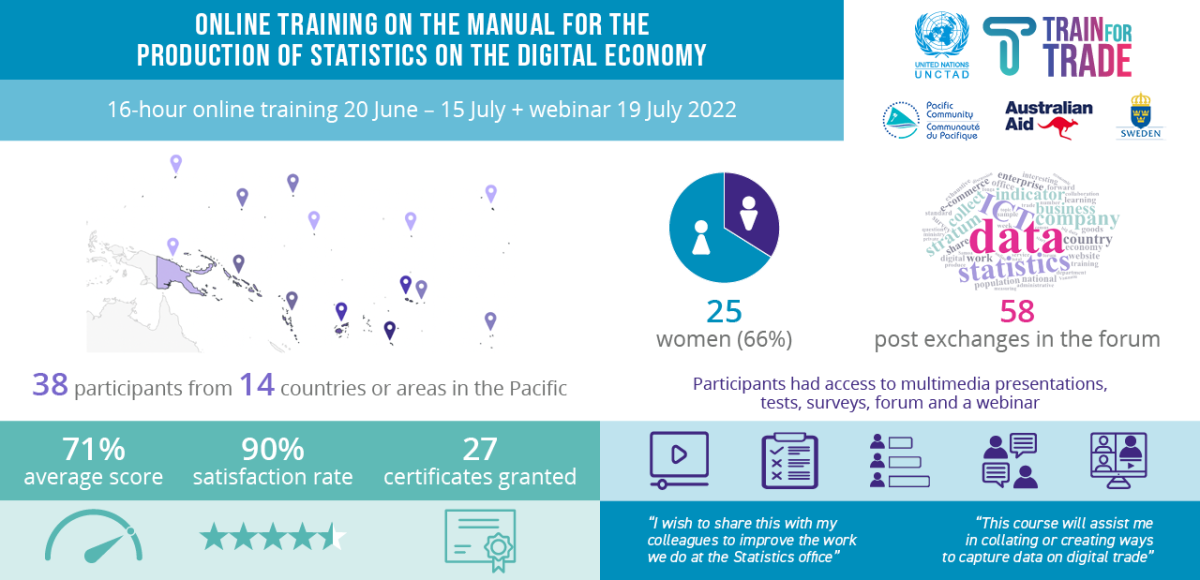 TRAINFORTRADE's dedicated course for the production of statistics specifically in the Pacific region enhanced the skills and knowledge in the measurement of e-commerce for the selected participants. The moderated four-week online course on the Production of Statistics on the Digital Economy (PSDE) was organised in English from 20 June to 15 July by UNCTAD, in collaboration with the Pacific Community (SPC).
The course was met with success and interaction. The total number of participants for the course was of 38 participants from 14 countries or areas. 25 participants (66%) were women. Out of the total registered, 27 have received a certificate of completion.
Producing statistics on the digital economy and society is an increasingly important component of the work programme of national statistical organizations. The demand for such statistics continuously increases as more countries seek to design, monitor and review national policies and strategies to take advantage of information and communications technologies (ICTs).
The course was intended to guide statisticians from developing countries through all the steps involved in the production and dissemination of statistics related to e-commerce and the digital economy. One of its aims was to strengthen the capacity of national statistical systems of Pacific countries to produce better, more reliable and internationally comparable digital economy statistics.
The lack of such data constitutes a significant gap in the toolkit policymakers need for designing and implementing ICT policies for development, including with reference to policy areas such as international trade, export promotion, foreign investment promotion and others.
The PSDE course scored a very high 90% satisfaction rate among the participants.
"Going forward the knowledge acquired from this course will be used in the compilation of BOP Statistics especially the services sector as the region turns to digital & and E-commerce trade", commented Mr. Evance Neusia from the Solomon Islands.
"This course will assist me in the Tuvalu Department of Trade especially in collating or creating ways to capture data on digital trade in Tuvalu. Digital Trade in Tuvalu is something new and is starting up", stated Mr. Darryl Ikbal from Tuvalu.
"Tuvalu is a tiny atoll nation and we are in the front row seat of the climate change battle and therefore capturing and storage of data especially digitally will be imperative in the event that Tuvaluans have to relocate as a result of rising sea level", he added.
"Working in a Statistics Office, this course was very helpful and hopefully this knowledge (plus the manual) will help us start work in embedding some ICT-related questions/modules into our business surveys & register", stated Ms. Mele Taumoepeau from Tonga.
The numerous feedbacks highlighted the richness of discussions and innovative approaches, but also the relevance of module subjects in view of the added value that participants gained for their field of work