PMP Cycle 2 resumes in Manila
[vc_row][vc_column][vc_column_text]

From 5 – 9 September, 26 middle managers from the port communities of the Philippine Ports Authority (PPA) including the private sector represented by cargo handling operators, who are enrolled in the UNCTAD TrainForTrade Port Management Programme will take part in the 1st of the eight training modules. The participants come from 19 different Port Management Offices of PPA, particularly from the regions of Manila/Northern Luzon, Southern Luzon, Visayas, Northern Mindanao and Southern Mindanao. While the rest represents Cebu Ports Authority (CPA), Manila North Harbour Port, Davao Integrated Port Services & Stevedoring Corporation (Dipsscor), Oroport Cargo Handling Services and the Authority of Freeport Area of Bataan.
The module will be delivered by senior managers from PPA who have been certified by TrainForTrade as local trainers. This strategy promotes South-South cooperation, as well as networking and exchange of best practices among member ports of the programme.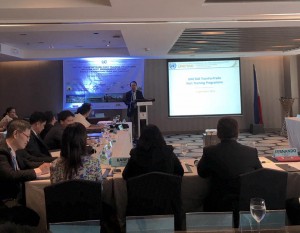 Module 1 of the Modern Port Management Course, "International Trade and Maritime Transport" focuses on the important and strategic relationship of ports, shippers and shipping companies. It examines further understanding of the factors that condition port activities that are integral part of international trade, which is directly linked to the process of producing, transforming, distributing and consuming goods.
The Philippines is currently on its 2nd cycle of the UNCTAD TrainForTrade Port Management Programme following a successful 1st Cycle that produced 24 graduates in 2015.
[/vc_column_text][vc_empty_space][vc_column_text]Contacts:
Mark Assaf             Aylwin Zabula[/vc_column_text][/vc_column][/vc_row]