Notable expectations and needs in SIDS for the digital economy project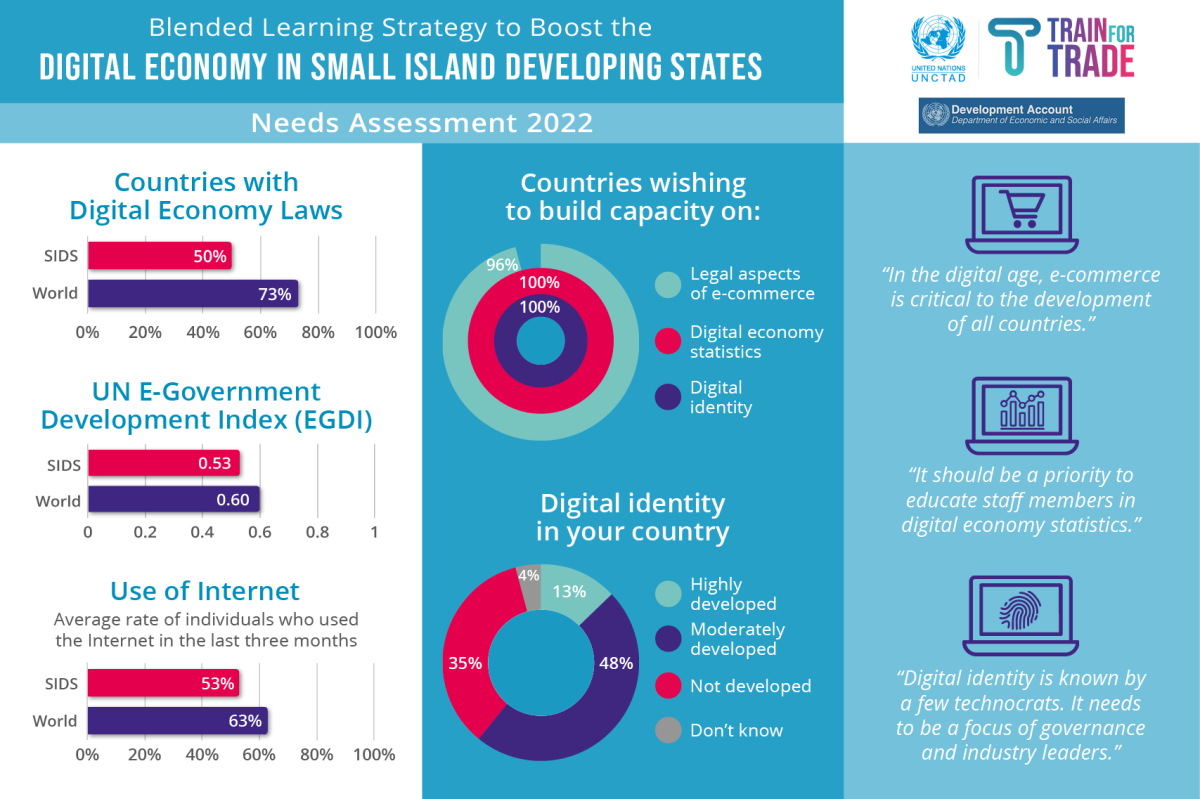 TRAINFORTRADE has assessed the needs on the development of e-trade and digital services in the beneficiary countries of its new project TRAINFORTRADE Blended learning strategy to boost the digital economy in Small Island Developing States.
We have collaborated with the 38 beneficiary countries, cooperated with international and regional organizations (Association of Caribbean States, Pacific Islands Forum Secretariat, Indian Ocean Commission, Commonwealth, Caribbean Community…) and exchanged with more than 350 diplomats and government officials to complete the needs assessment.
Despite their differences, most Small Island Developing States (SIDS) face similar challenges when it comes to the development of e-trade and digital services. They will have to improve their connectivity and strengthen their infrastructure. Their e-commerce legislation is below world average, in terms of e-transactions, consumer protection, privacy and cybercrime.
The Atlantic, Indian Ocean and South China Sea (AIS) region brings together countries with very different development levels, from Singapore to Guinea-Bissau. The Caribbean appears quite advanced and connected. Facing high infrastructure costs due to its remoteness and scattering, the Pacific region is a bit behind in the digitalization process.
In this context, the beneficiary countries show a great demand for capacity building courses, whether they focus on the legal aspects of e-commerce, digital identity or digital economy statistics. These issues are on the agenda of most SIDS, often being part of a national strategy or being currently debated by legislators.
TRAINFORTRADE collected precious information via questionnaires for the building of the courses, completing the existing literature. A large majority of SIDS believes that the project will have positive effects on crisis responsiveness, disaster recovery, human rights protection, defense of vulnerable groups and Sustainable Development Goals promotion. 96 per cent of respondents desire to build their capacity on the legal aspects of e-commerce. 100 per cent of respondents wish to build capacity on digital identity and digital economy statistics.
The training will consist of a combination of on-line moderated courses, follow-up webinars and participant-led case studies. The content will be designed for SIDS, selecting examples based on their challenges and facilitating benchmarking. The practical exercises will rely on concrete cases and foster dialogue between neighbouring countries, fostering regional synergies and cooperation.
"Digital identity is known by a few technocrats. However, it needs to be a focus of all Permanent secretaries, Heads of Departments and industry leaders."
"We lack good statisticians. It should be a priority to educate staff members in digital economy statistics and in data science as well"
"Now that the globe has entered the digital age, e-commerce is critical to the development of all countries"
38 beneficiary countries.