African Port Executives Trained in Marseille
From June 7th to 16th, thirty-four port executives from eight African countries are meeting in Marseille. Coming from Cameroon, Côte d'Ivoire, Djibouti, Gabon, Guinea, Senegal, Togo and Tunisia, they will participate in the training of trainers, as part of the Port Management Programme. Through face-to-face seminars and various activities, they will become certified trainers, gaining the ability to spread their new skills and knowledge in their port community.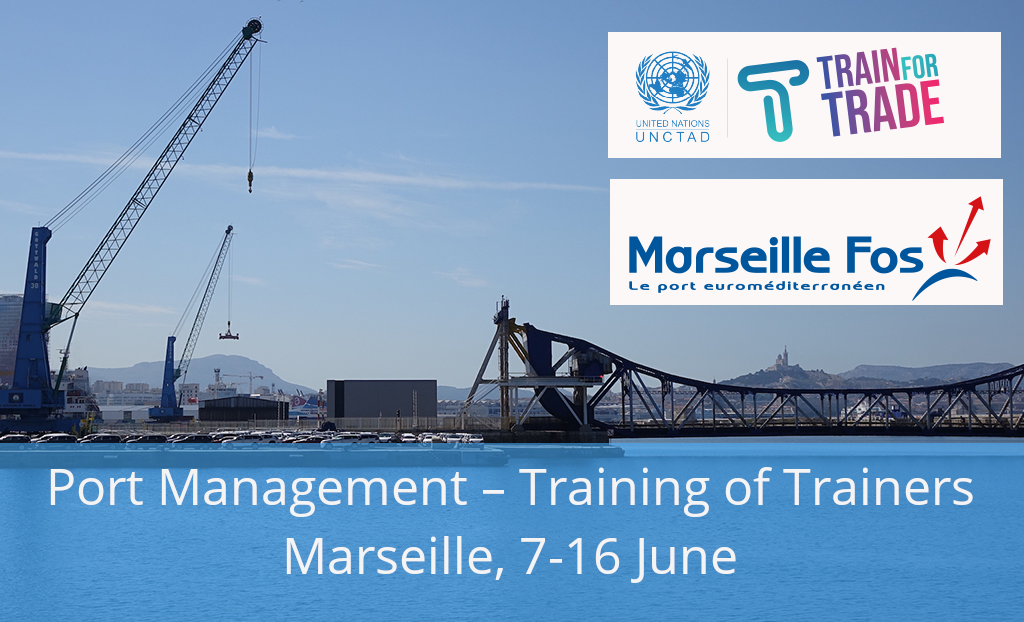 As preparation for this event, the month of May was dedicated to learning four modules on the TrainForTrade online platform. Participants validated their knowledge via a series of tests covering economic, commercial, administrative, legal and technical issues.
One year after Nantes Saint-Nazaire, it is the Port of Marseille-Fos, the other partner of the French-speaking network of the TrainForTrade Port Management Programme, which welcomes participants and organizes the sessions with UNCTAD experts. The pinnacle point of the of this training is showcased during participants case study presentations explaining how, within their port community, they implemented solutions linked to one of the course's themes.
These two weeks will also be punctuated by visits to the Port of Marseille-Fos, the CMA-CGM head office and the Agence Française de Développement training centre. A session of the Port Endeavor collaborative game—the fruit of a partnership between UNCTAD, IAPH and the Port of Antwerp-Bruges—will provide an opportunity to strengthen links between those who bring the TrainForTrade francophone network to life, while placing the UN Sustainable Development Goals at the heart of port management.
This visit of the delegations in Marseille will also provide an opportunity to hold the coordination meeting of the French-speaking network of the TrainForTrade port management programme, with the aim of collectively defining the future of this cooperation, whose successes have been accumulating for twenty-six years.