Diffusion du Module 8 : La gestion technique et les ressources humaines du Cours sur la Gestion Moderne des Ports au Cameroun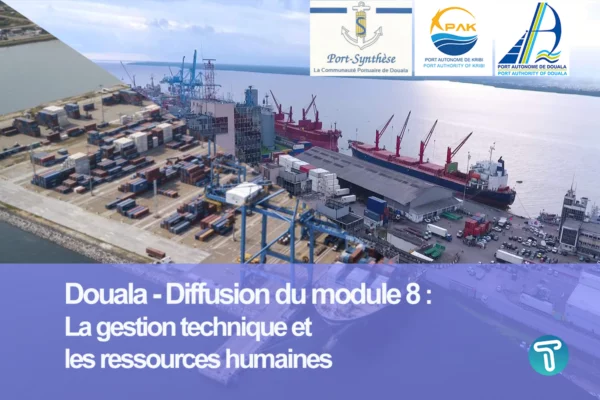 11 – 17 mai 2023: à Douala, Cameroun: Diffusion du Module 8 du Certificat Portuaire TrainForTrade : La gestion technique et les ressources humaines pour les 25 cadres portuaires (dont 13 femmes) de la 14ème promotion du programme de Gestion Portuaire TrainForTrade dans la communauté portuaire de Douala, Kribi et Limbé.
Ce module est composé de :
La gestion technique

L'élaboration d'un plan d'équipement du port

L'achat des équipements et la construction des ouvrages

La gestion de la maintenance des équipements et des ouvrages

Le développement des ressources humaines et de la formation

L'analyse des besoins en ressources humaines

Le recrutement et l'intégration des nouveaux employés

La formation et la gestion de carrière
Le cours est diffusé par des instructeurs nationaux au sein des locaux du Port Autonome de Douala. Le test en ligne du module aura lieu le 17 mai 2023 à travers la plateforme E-learning TrainForTrade.
From 11-17 May: PMP Delivery of Module 8: Technical management and human resources development in Douala, Cameroon, Cycle 14 for 25 port operators (13 women). Local port experts, who previously attended the Training of Trainers, will deliver the module.