Diffusion du Module 7 : La gestion administrative et juridique au Port d'Abidjan, Côte d'Ivoire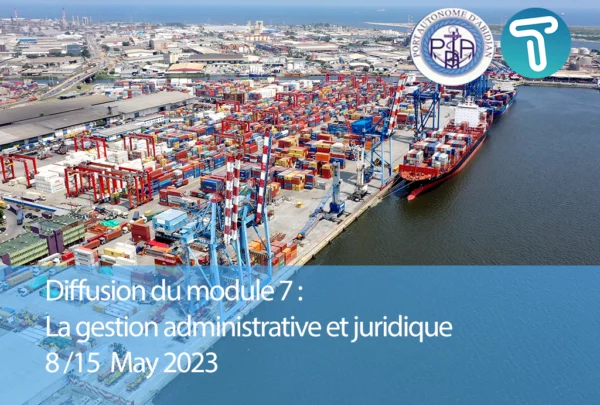 8-15 mai 2023 : à Abidjan, Côte d'Ivoire : Diffusion du module 7 : La gestion administrative et juridique du Cours sur la Gestion Moderne des Ports au Port Autonome d'Abidjan, pour les participants de la 5ème promotion (22 cadres portuaires dont 7 femmes) du Certificat Portuaire TrainForTrade de la CNUCED.
A la fin du Module 7, les participants seront capables de :
Décrire l'organisation générale et préciser la raison d'être de la fonction administrative du port
Identifier la base juridique de l'organisation et du fonctionnement d'un port
Préciser les principales dispositions de la réglementation d'exploitation et de police d'un port
Valoriser les principales règles du domaine public portuaire, et justifier d'avoir les principaux actes juridiques de gestion du domaine public portuaire
Reconnaître le rationnel de participer et d'éviter les événements préjudiciables aux ports en utilisant la gestion des risques et la police d'assurance adaptée aux besoins
La diffusion du module 7 durera une semaine. Les participants devront répondre au test et au questionnaire d'opinion le lundi 15 mai 2023.
---
8-15 May 2023: Abidjan – Côte d'Ivoire. Delivery of Module 7 of the Modern Port Management course to 22 participants (7 women) from the Port Authority of Abidjan. Local port experts, who previously attended the Training of Trainers, will deliver the module.