Delivery of Module 4, Cycle 2 of the Port Management Programme in Manila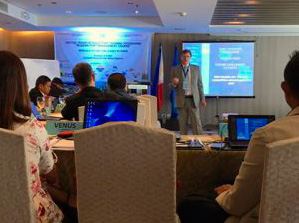 TrainForTrade, in cooperation with the Philippine Ports Authority (PPA) local organising committee, is currently undertaking Module 4 of the Modern Port Management Course from 14 – 18 November 2016 in Manila. 25 middle managers from the port communities of the Philippines who are enrolled in the UNCTAD TrainForTrade Port Management Programme is participating in the course.
The module is being delivered by two port experts from Dublin Port Company, along with senior managers from PPA who have been certified by TrainForTrade as local trainers.The fourth of the eight training modules examines the future challenges to ports which focuses on the main functions of commercial ports  in the third millennium.