Building port resilience remains important after the pandemic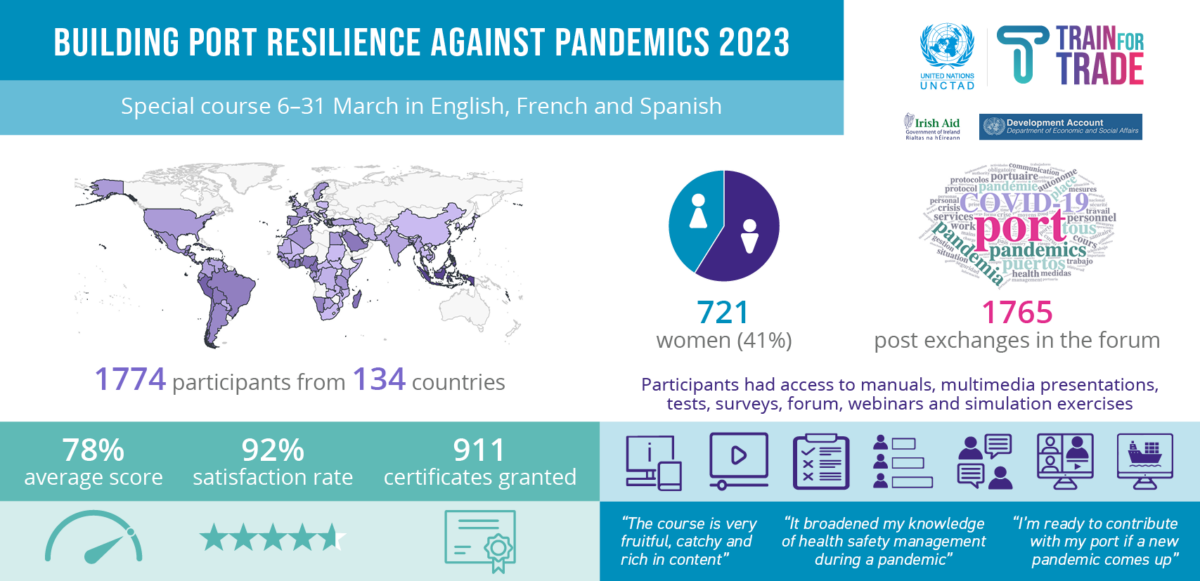 TrainForTrade's special course Building Port Resilience Against Pandemics (BPR) has reached already 4573 participants from 163 countries or regions since its first delivery two years ago.
The satisfaction rate of the fourth course session in 6–31 March 2023 was again very high: 92%. The session was organised in English, French and Spanish with 1774 participants in total.
The BPR course builds essential skills for port community managers to help protect people and secure vital trade in ports in a pandemic situation. It has been the first TrainForTrade training where new gamification methods have been implemented to develop and renew participants' e-learning experience.
Participants completed two online simulation exercises to consolidate the knowledge they acquired during the course. Exercises tested their decision-making skills in a role play situation in a pandemic context.
These simulation exercises have been especially appreciated by the BPR course participants. They were generally considered very realistic and practical exercises which measured well the decision making skills.
The peak of the COVID-19 pandemic is over, but the participants see the BPR course still as a very relevant training in helping to build and improve ports' resilience.
"We must always be ready for new risks and hazards. A risk analysis should always be updated and include the possibility of having a pandemic or a contagion. This course is a very useful tool to ensure the port operations and delivery of cargoes are not hampered during a pandemic while ensuring all personnel are safe", said Maria Christine Bautro from the Philippines.
"The course is very relevant in a modern globalized trade environment where delays or disruptions to the supply chains have severe impacts on the global economy. A business contingency plan enables the continued flow of operations even in times of crisis. The course is generally eye-opening and insightful", said Average Chikowore from Zimbabwe.
"I really had a blast practising with the tests and mostly the simulations exercises. It was a real virtuous way to fix all in the memory. I will use these new soft skills in my everyday work. I will be ready to contribute to my organization if a new pandemic situation comes up", said Rui Roberti from Brazil.
"The knowledge and skills acquired in the training are instrumental in developing calculated responsive measures (i.e. context-based and duly considered) instead of a naturally triggered reactive approach in the wake of unforeseen adversities",  commented Meenaksi Bhirugnath-Bhookhun from Mauritius.
"This training has broadened my knowledge of health safety management during a pandemic. It also increased my knowledge of cyber security and ways to handle its challenges. This course will help me prepare richer instruction materials for our maritime transport participants in my organization", thought Emmanuel Celestine Nwaejije from Nigeria.