3rd Port Performance Scorecard Workshop 8 to 11 November in Valencia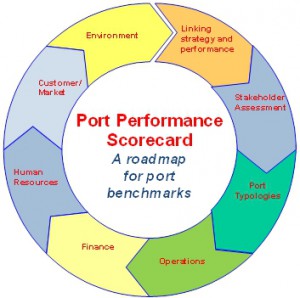 TrainForTrade, in cooperation with Valenciaport and with the support of Irish Aid, will organize the 3rd Port Performance Scorecard Workshop (PPS3) from 8-11 November 2016 in Valencia, Spain A total of 43 participants from 18 countries, namely: Angola, Argentina, Benin, Cameroon, Dominican Republic, Gabon, Ghana, Guatemala, Guinea, Haiti,  Ireland, Mauritania, Peru, Philippines, Portugal, Senegal, Spain, and Togo, comprising the four port networks (English, French, Spanish and Portuguese-speaking) of the UNCTAD TrainForTrade Port Management Programme will be represented in the workshop.
The workshop aims to build greater competitiveness based on higher standards of performance through a sustainable data sharing community. The PPS3 will include the data collected from the PPS2 in 2015 held in Ciawi, Indonesia, as a data point and to expand the number of participating ports from the four Networks of the Port Management Programme as well as the Port Partners. Each port representative will have the opportunity to present their results and experiences of the process, stakeholders' feedbacks, and contributions to the continuous improvement and development of the metrics and relate the measures to the national and local context.
Discussions will pave the way on how the metrics  relate to strategic issues in modern port management and how through this, beneficiary ports are improving their performance throughout the Port Networks. The new web platform for collecting data will be also presented to the members and group discussions will be organized by thematic group discussions to refine the indicators and work on the interpretation of the results.