TFT Project in South-East Asia 2018-2021
Overview
Leapfrogging skills development in e-commerce in South-East Asia in the Framework of the 2030 Development Agenda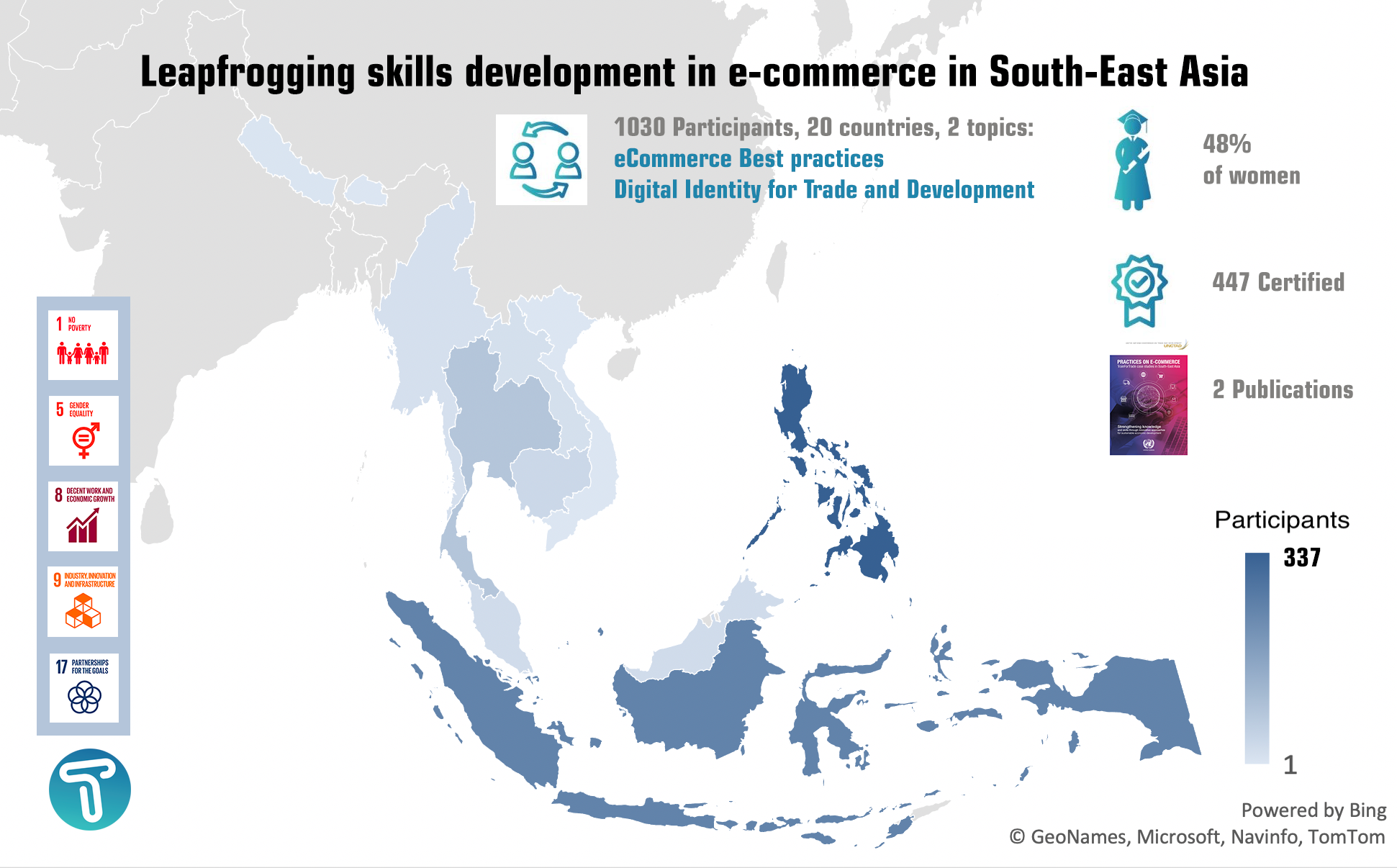 UNCTAD project in collaboration with UNCITRAL and UNESCAP with special partners World Bank, WEF, and NGOs with a focus on Indonesia, the Philippines and Singapore.Project Code: 1819N, Tranche 11
Opening remarks from Ms. Ibu KUAI, Ambassador Indonesia to the United Nations in Geneva

Opening remarks from Ms. Valerie Julliand, Resident Coordinator, United Nations in Indonesia

Opening remarks from Ms. Mira Tayyiba, Secretary-General, Ministry of Communications and Informatics, Indonesia (MCI)
Related Documents
[ult_createlink title=»Needs Assessment Report South-East Asia» text_color=»#008fbc» text_style=»left» font_family=»font_family:Roboto|font_call:Roboto|variant:500″ heading_style=»font-weight:500;»]
[ult_createlink title=»eCommerce Best Practices Final Report» btn_link=»url:https%3A%2F%2Ftftcal.unctad.org%2Fwp-content%2Fuploads%2F2022%2F08%2FFinal-Report1dc.pdf|title:eCommerce%20Best%20Practices%20Final%20Report|target:_blank» text_color=»#008fbc» text_style=»left» font_family=»font_family:Roboto|font_call:Roboto|variant:500″ heading_style=»font-weight:500;»]
[ult_createlink title=»Regional face-to-face follow-up Workshop on Digital Identity for Trade» btn_link=»url:https%3A%2F%2Ftftcal.unctad.org%2Fwp-content%2Fuploads%2F2022%2F08%2FDITD-report.05a.12s.pdf|title:Regional%20face-to-face%20follow-up%20Workshop%20on%20Digital%20Identity%20for%20Trade%20and%20Development|target:_blank» text_color=»#008fbc» text_style=»left» font_family=»font_family:Roboto|font_call:Roboto|variant:500″ heading_style=»font-weight:500;»]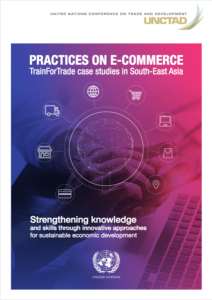 This publication provides efficient and practical proposals for governments and private sector actors in the areas of e-commerce and digital economy to set up enabling policies, exchange best practices, and improve economic and human development performance in a sustainable fashion.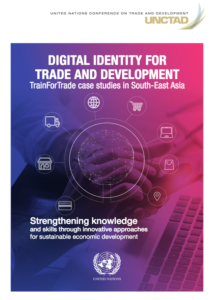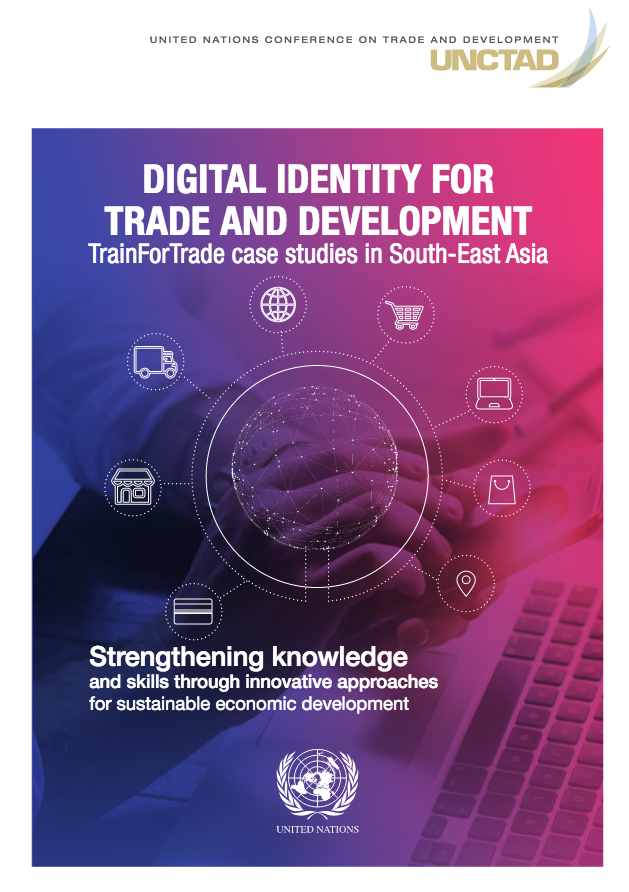 Digital identity for trade and development: TrainForTrade case studies in South-East Asia
This report explores in chapter one a brief history of the project. Chapter two gives an overview of some of the national strategies undertaken in South-East Asia in the implementation of a digital identity. Chapter three presents seven selected case studies prepared by the project's participants, covering the relevant legal and policy frameworks, as well as the current status of digital ID development in Cambodia, Indonesia, Malaysia, Myanmar and the Philippines. These selected case studies provide succinct examples of good practices as well as policy recommendations for further development of a NDIF. Chapter four concludes the publication with a list of recommendations.More on the publication case by case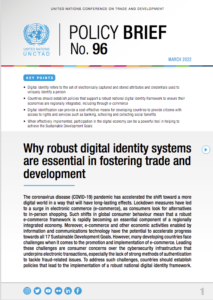 UNCTAD Policy Brief No. 96
The coronavirus disease (COVID-19) pandemic has accelerated the shift toward a more digital world in a way that will have long-lasting effects. Lockdown measures have led to a surge in electronic commerce (e-commerce), as consumers look for alternatives to in-person shopping.Such shifts in global consumer behaviour mean that a robust e-commerce framework is rapidly becoming an essential component of a regionally integrated economy. Moreover, e-commerce and other economic activities enabled by information and communications technology have the potential to accelerate progress towards all 17 Sustainable Development Goals. However, many developing countries face challenges when it comes to the promotion and implementation of e-commerce.Leading these challenges are consumer concerns over the cybersecurity infrastructure that underpins electronic transactions, especially the lack of strong methods of authentication to tackle fraud-related issues. To address such challenges, countries should establish policies that lead to the implementation of a robust national digital identity framework.
Key points:
-Digital identity refers to the set of electronically captured and stored attributes and credentials used to uniquely identify a person.-Countries should establish policies that support a robust national digital identity framework to ensure their economies are regionally integrated, including through e-commerce-Digital identification can provide a cost-effective means for developing countries to provide citizens with access to rights and services such as banking, schooling and collecting social benefits.-When effectively implemented, participation in the digital economy can be a powerful tool in helping to achieve the Sustainable Development Goals.